ADVANCE-ORA 597
Application Areas
Autonomous Transportation in Logistics
Edge Intelligence
Enterprise Asset Management
Geo fencing
High Speed Network Infrastructure
Industrial Digital Thread
Industrial Wearable's
INFINITE Platform for Virtual Domains
Location Tracking
Predictive-based Maintenance (PBM)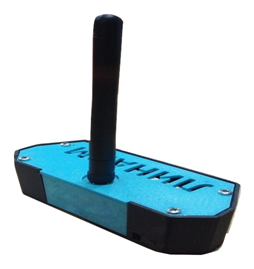 Technology Overview
 LoRa (Long Range) is a patented digital wireless data communication technology developed by Cycleo of Grenoble, France, and acquired by Semtech in 2012. LoRa uses license-free sub-gigahertz radio frequency bands like 169 MHz, 433 MHz, 868 MHz (Europe) and 915 MHz (North America). LoRa enables very-long-range transmissions (more than 10 km in rural areas) with low power consumption. The technology is presented in two parts — LoRa, the physical layer and LoRaWAN (Long Range Wide Area Network), the upper layers.
LoRa and LoRaWAN permit inexpensive, long-range connectivity for Internet of Things (IoT) devices in rural, remote and offshore industries. They are typically used in mining, natural resource management, renewable energy, transcontinental logistics, and supply chain management.
Specification
Working voltage: 1.8~3.7v
Operating frequency: 433MHz/868MHz/915MHz
Transmit power: +20dBm
Data rate: 1.2K~300Kbps@FSK
0.018K~37.5Kbps@LoRa
Temperature: -40℃- +85℃ Operating
Digital RSSI function
Low voltage detection and temperature sensor
WiFi+Bluetooth+ESP32
Latest ESP32 Version: REV1
WIFI
Bluetooth
4MB Flash
3D Antenna
GPS
GPS modules NEO-6M, 3V-5V power supply Universal
Destined module with ceramic antenna, signal super
Save the configuration parameter data EEPROM Down
With data backup battery
There are LED signal indicators
Default Baud Rate: 115200
LED indicator: There are 4 LEDs show the battery- Status in real time.
Power button: Click one time will start. Fast click 2- times will shut down.